LLCBase is your go-to place for everything about LLCs, and it's led by Brian Cohan, who's an expert in the field. Brian and our team are here to give you clear and helpful advice on how to set up and manage an LLC. We've been through the process and know the ins and outs. Our articles and guides are based on real experiences, making them practical for you. We're committed to helping you make smart choices for your business. With LLCBase, you're in good hands as you navigate the world of LLCs.
At LLCBase, we understand that forming a business can be an overwhelming experience, so we are here to help you every step of the way. Whether starting a small business or seeking to expand an existing one, the journey can seem daunting. But fear not! Our priority is to guide you through your LLC formation adventure, and with this in mind, we bring you an in-depth review of TailorBrands. This platform offers useful insights and support for entrepreneurs across the United States.
In this article, we'll explore everything TailorBrands has to offer and how it compares to other platforms on the market. So, sit back, relax, and embark on this exciting journey toward starting a successful LLC together.
What is TailorBrands?
TailorBrands is a digital platform providing valuable tools and resources for individuals seeking to start a Limited Liability Company (LLC). They offer services designed to streamline the often complex process of LLC formation, including business branding, logo design, website creation, and more. In addition, the platform is equipped with helpful resources and user-friendly tools that make LLC formation a breeze.
How TailorBrands Works
TailorBrands simplifies the LLC formation process into four easy and comprehensive steps, ensuring their services cater to entrepreneurs across all 50 US states. These steps facilitate the process while keeping it efficient and reliable.
1. Choose your state
TailorBrands offers its services in all 50 US states, which means you get accurate information and support specific to your location. This is crucial for adhering to each state's unique rules and regulations, as they vary significantly. By choosing your state, you can be confident that you'll receive expert guidance tailored (pun intended) to your needs.
2. Name your LLC
Choosing the perfect name for your LLC is essential for your business image and ensuring it complies with your state's regulations. TailorBrands provides helpful tips and advice on selecting the perfect name, including ideas for consideration and state-specific naming requirements. They also check the availability of your desired name, ensuring there are no conflicts with existing businesses that might cause legal issues later on.
3. File the Articles of Organization
The Articles of Organization are the legal documents required to establish your LLC with the state. This process can vary from state to state, but TailorBrands guides you through the process, ensuring that you complete and file the necessary paperwork to create a legally established LLC. Their assistance helps you navigate any complexities during this phase, making the process seamless.
4. Obtain an Employer Identification Number (EIN)
An EIN is a unique identification number the Internal Revenue Service (IRS) assigned to your business for tax reporting purposes. It's also necessary for opening a business bank account and obtaining any required business licenses or permits. TailorBrands helps you acquire an EIN through its platform, taking the hassle out of this critical step.
TailorBrands ensures a smooth and efficient LLC formation process by streamlining these vital steps. Furthermore, their dedication to providing clear, accurate, and state-specific information makes them a reliable and comprehensive solution for aspiring entrepreneurs.
TailorBrands Services Explained
TailorBrands is dedicated to helping entrepreneurs create and grow their LLCs by offering comprehensive, reliable services. These services are geared towards providing the necessary tools and resources to enhance various aspects of your business.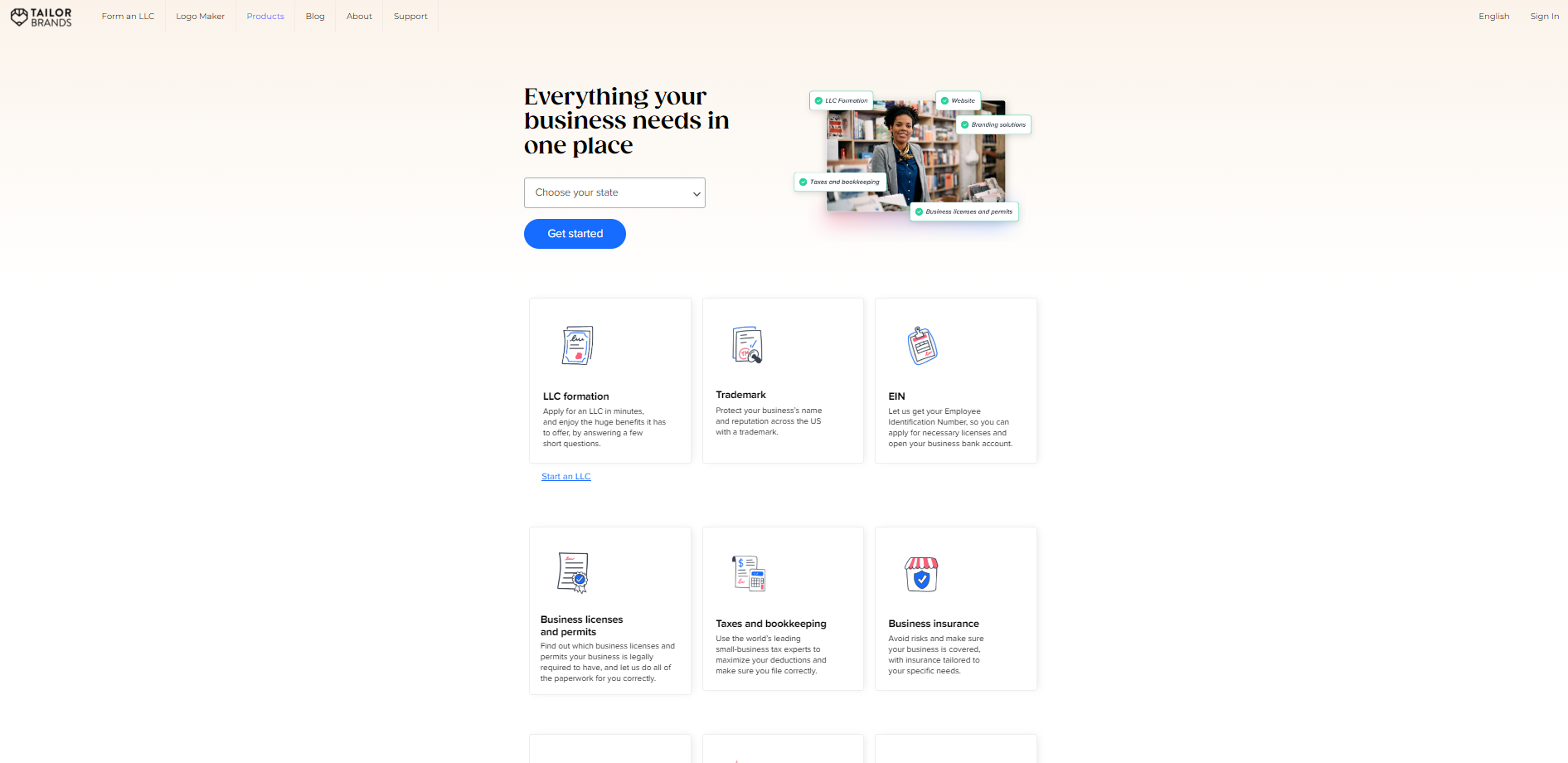 1. LLC formation service
TailorBrands' primary focus is to assist you in navigating the complex process of forming your LLC. By ensuring adherence to state-specific regulations, they guide you through the necessary steps to legally start your LLC. Their comprehensive LLC formation service ensures that you have expert guidance and support throughout the process, giving you peace of mind and confidence in your endeavor.
2. Business Branding
A strong brand identity is essential for the success and longevity of your business. TailorBrands provides resources and tools to help you create a unique and engaging brand that stands out in the market. This includes assistance with crafting your brand story, finding your target audience, devising an effective marketing strategy, and more. With their help, you can develop an impactful brand identity that facilitates long-term growth for your LLC.
3. Logo design
Your logo is the visual representation of your brand, the first thing customers and clients see. TailorBrands offers a custom logo design service that combines your input with AI-powered technology and delivers a unique, professional, and visually stunning logo that captures your business's essence. Their customizable logo designs give you the flexibility to choose the perfect representation of your brand to help you stand out in a competitive market.
4. Website creation
In today's digitally connected world, having a strong online presence is essential for any business. TailorBrands offers website design and hosting services that allow you to create a professional, user-friendly, and visually appealing website without any hassle. They provide a range of customizable templates, as well as in-depth design and SEO optimization features, to ensure your site is not only attractive but also search-engine friendly.
5. Ongoing support
TailorBrands understands that the road to success doesn't end with forming an LLC but rather continues with the day-to-day challenges of business ownership. They are committed to providing ongoing support and resources for your LLC formation journey and beyond. This includes access to their extensive knowledge base, guides, and articles and their customer support team, which is available through live chat and email to help answer any questions and provide clarification as needed.
TailorBrands offers a comprehensive suite of services to support entrepreneurs throughout the LLC formation and business growth process. Utilizing their reliable, user-friendly platform, you can confidently embark on your entrepreneurial journey with a strong foundation for success.
TailorBrands Pricing and Plans
TailorBrands is a branding and design platform that offers various pricing plans to cater to different needs and budgets. These plans provide users with a range of branding, logo design, and website-building tools suitable for businesses of various sizes.
1. Basic Plan
Priced at $9.99 monthly, the Basic Plan provides access to branding and logo design tools that help businesses create a unique identity. With this plan, users can create and customize their logo and access basic brand guidelines to maintain brand consistency. Some features include limited file formats, a brand book, and access to several design templates.
2. Standard Plan
Priced at $19.99 per month, it offers a more comprehensive set of branding and online presence tools, making it suitable for growing businesses. Users on this plan gain access to additional file formats, including vector files, social media design tools, templates, email signature designs, and business card designs. The Standard Plan also offers a wider selection of design templates and more advanced online branding tools.
3. Premium Plan
Priced at $49.99 per month, it is designed for businesses looking to create a professional website alongside their branding tools. Besides the features offered in the first two plans, the Premium Plan includes a comprehensive website builder, domain registration, and hosting services. Users on this plan gain access to additional resources and tools, including advanced online branding features, a wider selection of design templates, and unlimited web pages for their website.
It is important to note that TailorBrands also offers LLC formation services priced separately at $49. This service assists businesses in the legal aspects of setting up a limited liability company, helping users streamline their operations. TailorBrands offers a streamlined approach to LLC formation with a straightforward package priced at $49, encompassing essential services such as:
LLC Filing
Name Availability Search
Priority Support
For a more customized experience, clients can enhance the basic package by adding a range of à la carte services to suit their specific needs. These optional services, along with their respective prices, include:
Registered Agent – $199/year
Employer ID Number (EIN) – $99
Annual Compliance – $199/year
Operating Agreement – $29
Expedited Filing – $49
In addition to the abovementioned options, TailorBrands offers further specialized services, such as:
Annual Report Filing
Business License Report
These additional services can be selected according to the state's requirements and the specific needs of your business. Choosing TailorBrands ensures a flexible and personalized approach to LLC formation, catering to a wide variety of client preferences and budgets.
Each of these pricing plans by TailorBrands is designed to cater to the varying requirements of businesses by offering scalable, effective, and reliable branding solutions. Users can choose the plan that best aligns with their budget and branding objectives.
TailorBrands Customer Service and Support
TailorBrands has steadily built a reputation as a go-to platform for branding solutions, emphasizing logo design, branding materials, and formation service. The formation service stands out among the rest due to its efficiency and ease of use, largely thanks to the company's exceptional customer service and support.
Those who have utilized TailorBrands' formation service (as evident from customer reviews on Trustpilot) appreciate the platform's intuitive and user-friendly nature. From the moment users land on the website (https://www.tailorbrands.com/), they are guided through the range of services available, with the formation service being a key offering.
TailorBrands' customer service representatives are noted for their extensive knowledge of formation services. This expertise, responsiveness, and genuine desire to facilitate businesses and entrepreneurs lead to an outstanding overall experience. The positive reviews on Trustpilot serve as a testament to the caliber of their platform and the company's commitment to ensuring top-notch customer support in all aspects of the formation process.
In conclusion, TailorBrands provides a reliable formation service backed by a robust customer support system. Users can rest assured that when they opt for TailorBrands' formation service, they receive exceptional assistance from a team of knowledgeable and insistent professionals dedicated to helping businesses succeed.
TailorBrands Alternatives and How They Compare
TailorBrands has gained popularity for its vast branding solutions, including logo design and formation services. However, several alternatives in the market may cater to different businesses' unique needs. Here's a more comprehensive look at some alternatives to TailorBrands and how they compare:
1. LegalZoom
LegalZoom has cemented its position as a trusted provider of legal services for businesses of all sizes. Their services range from LLC formation, copyright and trademark registration to legal document creation. LegalZoom's longevity and experience in the industry make it a reliable choice. However, one downside is their higher pricing than competitors like TailorBrands.
LegalZoom provides a selection of three LLC formation packages – Basic, Pro, and Premium – each tailored to cater to various budget constraints and requirements. A closer look at the features and services offered in each package is provided below:
Recommended: Unlock the power of trusted legal expertise – hire a reliable LLC formation service for comprehensive LLC formation, copyright, and trademark registration services. We recommend –

Our #1 Pick: LegalZoom – ($0 + State Fees) Online LLC Setup
Basic Package ($0 + state filing fees)
This foundational package covers the essentials for LLC formation and includes the following services:
Preparation and filing of Articles of Organization
Name availability search
Lifetime customer support
Standard LLC formation process
Pro Package ($249 + state filing fees)
Building on the Basic Package, the Pro Package incorporates additional services to better support your business:
Access to operating agreement templates
Employer Identification Number (EIN)
Business licenses and permits guide
Tax and insurance guidance
Financial account authorization letter
Premium Package ($279 + state filing fees)
For a more comprehensive solution, the Premium Package offers everything included in the Pro Package plus:
Attorney services for 30 days subscription
Additional business services such as websites, email, and more
Selecting the right LegalZoom package ensures your LLC formation process is cost-effective and aligned to your business needs. The Basic Plan includes a personalized operating agreement, financial account authorization, and a 100% satisfaction guarantee. The more advanced plans, such as the Standard Plan and Express Gold Plan, also include additional benefits such as expedited processing, a deluxe organizer, a personalized company seal, and a binder.
2. BetterLegal
BetterLegal is a pioneer in providing efficient and carefully-designed LLC formation services tailored to the needs of entrepreneurs. Their exclusive offerings bridge the gap between business formation, registered agent services, and compliance support to create a seamless, easy, and quick setup process. Every step is designed to save time without cutting corners, keeping convenience at the forefront.
BetterLegal's flat-rate package of $299, barring the state filing fee, encompasses a range of assistance functions that would be essential to an entrepreneur. It includes necessary yet time-intensive tasks such as filing the certificate of formation, constructing an operating agreement, procuring an Employer Identification Number (EIN), and submitting the mandatory documents needed for banking and tax compliance.
Additionally, entrepreneurs gain access to BetterLegal's efficient registered agent services for a modest fee of $10 per month or a discounted annual fee of $90. This service adds significant value to their package, becoming a critical communication link between the state and your business, ensuring no crucial information or documents are missed. Simplifying the complex business formation process without breaking the bank, BetterLegal is the friendly guide every entrepreneur needs.
3. ZenBusiness
ZenBusiness has positioned itself as a platform catering to small businesses, helping them establish and maintain compliance with state regulations. They offer LLC formation, registered agent service, and annual report filing, among other services. With competitive pricing and a strong focus on customer support, ZenBusiness has earned high user praise in its reviews.
ZenBusiness offers three pricing plans for its business formation and related services, starting at $0. The following information provides details on these packages:
Starter Plan: $0 + California filing fees
This $0 plan includes essential features like business formation (LLC, Corporation, or Nonprofit), registered agent services for the first year, an operating agreement template, and a worry-free compliance guarantee covering Annual Report filing and a registered agent for two years.
Name Availability Search
LLC Preparation and Filing
Phone and Email Support
Online Document Access
Statement of Organizer
Free Accounting Consultation
Virtual Business Guide
Google Ads Credit
Standard Filing Speed
Pro Plan: $199 + California filing fees
In addition to the Starter Plan features, the Pro Plan incorporates services like Employer Identification Number (EIN) registration, faster filing speed, and a customizable banking resolution template to help open a business bank account.
Advertising Consultant LLC Filing – ZenBusiness takes care of all aspects of your LLC application to become an advertising consultant business and communicates with the state until your LLC is formalized.
Advertising Consultant Operating Agreement
Advertising Consultant Annual Compliance Service – ZenBusiness handles the required yearly procedures for your state to operate within your industry legally
Rush Filing Service
Premium Plan: $299 + California filing fees
The Premium Plan encompasses everything in the Pro Plan, domain name registration, a business website, and professional email services – essential requirements for an online presence.
Fastest/Rush Filing Speed
Business Website
Business Domain Name
Business Email Address
Add-on Services by ZenBusiness
ZenBusiness offers various add-on services, either included in existing plans at an extra cost or available for individual purchase. Some of these services are:
Standalone Registered Agent Service – $99
Business Name Reservation – $50
Annual Report Filing – $100 + state fees
New York Publication – $200 + publication cost
Filing Amendment – $100 + state fees
Certificate of Good Standing – $100 + state fees
Business License Report – $99
Business Document Templates Library – $99
When choosing the right LLC formation service for your business, factors such as pricing, additional services offered, and customer support quality should be considered. Researching and comparing each platform's services and benefits is crucial before making a final decision. Understanding the unique needs of your business and matching them with the provided services will ensure that you find the best option that aligns with your goals.
Who Are TailorBrands Best For?
TailorBrands is best suited for a diverse range of entrepreneurs and small businesses aiming to establish a robust brand identity alongside their LLC formation. Its user-friendly platform and seamless integration of services make it an ideal choice for those seeking a comprehensive solution in one place. Here's a breakdown of the target audience that TailorBrands caters to and how its features and benefits can be of value to them:
Startups and small businesses: For startups and small businesses with limited budgets and resources, TailorBrands offers affordable branding solutions, including their AI-powered logo design, social media tools, and website creation services. This allows businesses to create a professional brand image without needing expensive marketing agencies or designers.
Solo entrepreneurs and freelancers: TailorBrands can help solo entrepreneurs and freelancers establish a memorable and consistent brand identity, enabling them to stand out in a competitive market. The platform's user-friendly interface and design templates make it accessible for individuals without extensive design or technical knowledge.
Businesses needing rebranding: Existing businesses aiming to refresh their brand identity can benefit from TailorBrands' services. The AI-powered logo design and branding tools help create a fresh, updated look tailored to the company's values, target market, and preferences.
E-commerce businesses: TailorBrands also offers e-commerce website templates and integrations, making it an excellent choice for online retailers. They can create a visually appealing and functional e-commerce website with minimal effort, further strengthening their online presence.
Ultimately, TailorBrands is ideal for businesses and entrepreneurs who want a comprehensive yet cost-effective solution to form their LLC, establish a solid brand identity, and design their website. The platform's ongoing support, intuitive design, and additional features, such as social media tools, print materials, and branding guidelines, make it a reliable partner for businesses throughout their branding journey.
What is TailorBrands?
TailorBrands is an AI-powered branding and design platform that provides logo design, branding solutions, and other creative tools for small businesses and entrepreneurs.
What are the primary services offered by TailorBrands?
The primary services include Logo Design, Branding Solutions, Website Builder, Social Media Management, Print Materials, and Brand Consultation.
What makes TailorBrands unique from other logo design services?
TailorBrands uses artificial intelligence to create unique and professional logos tailored to your business needs, taking into consideration the industry, target audience, and preferences.
How much does it cost to use TailorBrands?
TailorBrands offers three pricing plans: Basic ($3.99/month), Standard ($5.99/month), and Premium ($12.99/month), all billed annually.
Can I try TailorBrands for free?
Yes, TailorBrands offers a free trial, allowing you to test their services and get a feel for their platform before committing to a paid plan.
Can I customize my logo further after downloading it from TailorBrands?
Yes, TailorBrands allows you to re-edit and customize your logo as much as needed, even after purchasing and downloading it.
What file formats will I receive for my logo design?
TailorBrands provides logos in several formats, including high-resolution JPEG, PNG, and vector SVG files.
Does TailorBrands offer a money-back guarantee?
Yes, TailorBrands offers a 30-day money-back guarantee, ensuring customer satisfaction and a risk-free trial of their services.
Can I create a website with TailorBrands?
Yes, the platform offers an intuitive website builder, allowing you to create and launch your website easily.
Are there any e-commerce capabilities on the website builder?
Yes, TailorBrands' website builder offers e-commerce functionality, allowing businesses to set up online stores.
Is the website builder compatible with different devices and screen sizes?
The website builder creates responsive and compatible websites across various devices and screen sizes.
Does TailorBrands offer domain registration and hosting services?
Yes, TailorBrands provides domain registration and hosting services for customers using their website builder.
What kind of support is provided by TailorBrands?
TailorBrands offers email support, chat support, and an extensive knowledge base to help customers with any inquiries or concerns.
Are there any resources for learning about branding and design?
Yes, TailorBrands offers a blog, educational videos, and a collection of articles covering various branding and design topics.
Can I use TailorBrands for social media management?
The platform offers automated social media posting and scheduling capabilities to help streamline your online presence.
What type of print materials can I get from TailorBrands?
TailorBrands offers a range of print materials, including business cards, letterheads, and promotional items.
Can I collaborate with my team on TailorBrands?
Yes, TailorBrands allows team collaboration for its premium plan users.
Is TailorBrands suitable for all types of businesses?
Yes, TailorBrands caters to businesses across various industries, sizes, and stages of development.
Does TailorBrands offer any discounts or promotions?
TailorBrands occasionally offers discounts and promotions. Keep an eye on their website or subscribe to their newsletter to stay updated.
How frequently does TailorBrands update its features and services?
TailorBrands continually works to improve its platform, regularly rolling out updates, new features, and service enhancements to provide an exceptional user experience.
How to Use Tailor Brands
Tailor Brands: The Ultimate Companion for Building a Striking Brand Identity

In today's fast-paced digital world, having a visually compelling brand identity has never been more vital. As businesses seek to capture the attention of consumers, it is crucial to stand out from the crowd and leave a lasting impression. Thanks to the power of technology, creating a professional brand identity is now more accessible than ever before, and tools like Tailor Brands have emerged to simplify the process.

Tailor Brands, a user-friendly online design platform, empowers entrepreneurs and business owners to craft a captivating brand identity effortlessly. Whether you're a startup embarking on a new venture or an established company looking to refresh your branding, Tailor Brands offers a treasure trove of features to help you articulate a unique brand portrayal.

One of the outstanding features that Tailor Brands offers is an intuitive logo maker. Your logo serves as the face of your brand – the symbolic representation that communicates your mission, values, and overall aesthetic. With Tailor Brands' comprehensive logo maker, you can bid farewell to complicated design software or expensive graphic designers. This powerful tool offers a seamless experience, allowing you to generate an assortment of logo designs tailored specifically to your needs. From elegant and minimalistic logos to bold and eye-catching emblems, the possibilities are boundless.

Moreover, Tailor Brands enables you to create a cohesive brand identity beyond just your logo. With their complete branding kit, you can effortlessly design complementary business cards, letterheads, social media graphics, and more, ensuring a consistent and professional appearance across all touchpoints. Establishing a coherent visual identity is no small feat, and having the ability to effortlessly generate the entire branding package embodies the sheer convenience and practicality of Tailor Brands.

For the artistically challenged among us, fret not – Tailor Brands also offers an extensive library of fonts, icons, and colors to support your creative journey. These visual elements, when combined, play a pivotal role in conveying the character of your brand effectively. With Tailor Brands' vast pool of creative assets, you can experiment and determine the combination that truly represents your unique identity.

As a bonus, Tailor Brands has recently introduced a website builder option, taking their services beyond just design. This expansion empowers users to establish an online presence without the need for any coding or technical expertise. The ease of creating an aesthetically pleasing website through their intuitive platform streamlines the process, saving both time and money – key assets for any budding entrepreneur or busy professional.

Supporting entrepreneurs and business owners in crafting their brand identity extends beyond just design tools, and Tailor Brands recognizes this. Their blog offers a wealth of informative articles covering topics such as branding strategies, marketing tips, and industry insights. By equipping users with the knowledge and expert advice necessary to navigate the ever-evolving business landscape, Tailor Brands highlights their commitment to helping businesses succeed beyond simply designing an attractive logo.

In conclusion, Tailor Brands truly shines as a comprehensive solution for individuals and businesses striving to establish a prominent brand presence. By effortlessly generating captivating logos, building a coherent visual identity, and now venturing into website building, Tailor Brands continues to set the bar high in providing accessible and impactful brand solutions. So, whether you're a budding entrepreneur or an established enterprise seeking a refresh, consider Tailor Brands your go-to companion for crafting a striking and unique brand identity.
Conclusion
Creating an LLC may seem daunting, but by choosing a reliable platform like TailorBrands, you can rest assured that your business formation journey will be smooth sailing. Of course, weighing your options and considering alternatives is important to determine the best path forward for your unique situation.
By offering LLC formation, branding, and website creation services, TailorBrands is a valuable resource for entrepreneurs navigating the world of business ownership. With excellent customer service and support to accompany their extensive services, TailorBrands is worth considering as you embark on your LLC formation adventure. Remember, at LLCBase, we are here to guide you every step of the way – so don't hesitate to reach out for assistance or advice as you bring your business to life.